Stepping Stone Productions is a privately owned business on beautiful Prince Edward Island. In 2001, husband and wife team, Darlene and Erwin Balderston, originally set out to raise the bar in the production of wedding videos, creating feature films that their clients would not only want, but love, to watch. Having successfully turned their passion into a reality, Stepping Stone Productions now provides a wide range of professional video services, from broadcast and commercial projects, to live events and audio/visual. They each bring a specific skill set that compliments the other, and makes for a highly effective team on any project.
Erwin Balderston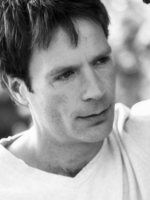 Erwin has worked as a professional videographer for over 10 years. His passion for filmmaking has influenced his work from the very beginning. Although his shooting style takes on a more cinematic approach, he is also an experienced ENG cameraman. Erwin's love of technology ensures that Stepping Stone Productions is always up on the latest.
When he isn't out shooting, Erwin can be found at his editing station, where his skills as an editor, colorist, and audio mixer shine.
He believes that any job worth doing is worth doing right from the start, and is committed to making each project the best it can be.
Darlene Balderston
Darlene plays an important role, being that she is the producer on most of the projects and keeps things moving on time and on schedule. Her attention to detail and high standards have ensured the highest quality in their work.
Darlene goes into each project with the mindset that it is always the first day on a new job. She loves meeting and working with new people, and her genuine interest in her clients makes them feel at ease.
In addition to managing the business, Darlene can also be found behind the lens and at her editing station.